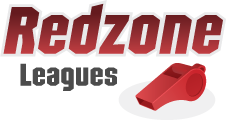 Redzone Leagues is a complete end-to-end website solution for sports leagues. But it's not just a website, it's an EASY total league management system. It's also FREE!.
Redzone was started by one of Redline's founders while involved as an executive member of an amateur sports organization. This organization realized how vital it was to have a presence on the Internet for efficiently communicating with its membership and for promoting the league.
Many leagues don't have the resources to create a professional looking website or the ones that do, simply don't have the time. Sports leagues are run primarily by volunteers, so time spent on league affairs is at a premium. Redzone was designed to maximize their productivity.
Redzone takes all the tasks such as: registration, communication with members, statistical tracking, and schedule creation - and makes it a snap for any skill level! Please visit the Redzone website to find out more.
Redzone is completely written in Ruby on Rails and is hosted on Redline's secure servers. You can check our blog for announcements on the latest features and new developments.

Snap Chop is our premier mobile app for iPhone & Android. It's stupid, smart, awesome, immature, and hilarious all in one.
Grab the app for your iPhone or Android device and check us out on Facebook and Twitter.